Read Time:
6 Minute, 3 Second
The fashion industry in Pakistan has witnessed a significant transformation in recent years, with the latest trends in Pakistani girls' clothes gaining immense popularity among the younger generation. These trends have become a statement of personal style, reflecting the fashion sense and individuality of Pakistani women. From casual wear to special occasions, Pakistani girls now have a wide range of options when it comes to their clothing choices. Whether it's the traditional shalwar kameez or the fusion of Western and ethnic wear, the current fashion trends in Pakistan embrace both modern styles and traditional wear.
The younger generation, particularly, is inclined towards experimenting with bold and bright colours, such as pastels and bolder colour tones, making them the colour maniacs of the fashion scene. In contrast, dull and neutral colours have taken a backseat. With the availability of a huge range of color options, Pakistani girls can effortlessly express their distinctive style through the style of clothing they choose.
Additionally, the abundance of affordable and trendy jewelry options complements these outfits, further enhancing their overall look. As the fashion industry continues to evolve, it is clear that Pakistani girls' clothing trends have become a prominent part of the fashion landscape, catering to diverse tastes and preferences.
Casual Wear for Pakistani Girls
Casual wear for Pakistani girls is all about comfort and style. With the summer season in full swing, lightweight and breathable fabrics are in demand. Pastel colours continue to dominate the fashion industry, offering a refreshing and feminine touch to everyday outfits.
Shalwar kameez, the traditional attire, is a timeless choice for casual wear. It showcases the rich cultural heritage and can be customised to reflect personal style through intricate embroidery and digital prints. Pakistani fashion designers like Maria B offer a wide range of shalwar kameez designs that cater to different tastes and preferences.
For those who prefer a fusion of eastern and western wear, there are plenty of options available. Pakistani girls can opt for trendy trousers paired with stylish tops or dresses with a traditional touch. This combination allows for a modern and fashionable look while still maintaining a connection to their cultural roots.
Accessories play a vital role in completing the casual wear look. Affordable jewelry, such as Desi jewelry, adds a touch of elegance and enhances the overall appearance.
Bright Colours and Digital Prints – In-Trend Nowadays
Bright colours and digital prints are currently in trend in Pakistani girls' clothing. The fashion industry in Pakistan is known for its vibrant and eye-catching colour palettes, and this season is no different. From bold and vibrant hues like electric blue, fuchsia, and mustard yellow to soft pastels like mint green and baby pink, there is a wide range of colour options for fashion lovers to choose from.
Another popular trend is digital prints, which are taking the fashion world by storm. These prints feature intricate and detailed patterns that are digitally printed onto the fabric, creating a unique and modern look. Whether it's floral prints, geometric designs, or abstract patterns, digital prints add a touch of innovation and creativity to any outfit.
In addition to the colour palette and prints, a variety of fabrics are being used to create these trendy outfits. Lightweight and breathable fabrics like cotton and lawn are popular for the summer season, allowing girls to stay cool and comfortable in the hot weather. Silk, chiffon, and organza are also being used for special occasions and formal events, adding a touch of elegance and sophistication to the outfits.
Overall, the current fashion trends in Pakistani girls' clothing are all about bright colours, digital prints, and a wide range of fabric options. With these trends, girls can express their personal style and make a fashion statement that reflects their vibrant and unique personalities.
Summer Season Outfits for Pakistani Girls
For the summer season, Pakistani girls are opting for a more relaxed and comfortable style in their outfits. Flowy tops and skirts combinations are a popular choice, allowing for ease of movement and breathable fabrics that keep them cool in the heat. The loose kurtas paired with palazzo pants or jeans are another go-to option, providing a trendy and relaxed look.
In terms of colours, pastel shades are ruling the summer wardrobe. Soft hues like baby blue, mint green, and pale pink are all the rage this season. These colours not only complement the hot weather but also create a refreshing and feminine look.
When it comes to fabrics, lightweight and breathable materials are essential. Cotton and lawn are the go-to choices for everyday wear. These fabrics allow air to circulate, keeping girls comfortable throughout the day. For special occasions, silk, chiffon, and organza are preferred, as they add a touch of elegance and sophistication to the outfits.
To complete the summer look, girls are opting for minimal and delicate jewelry. This includes dainty necklaces, earrings, and bracelets that add a subtle touch of sparkle without overpowering the outfit.
Overall, the summer season is all about staying comfortable and looking stylish. Pakistani girls are embracing flowy and relaxed silhouettes, pastel colors, and lightweight fabrics to beat the heat while making a fashion statement.
Special Occasions Outfit Ideas for Pakistani Girls
When it comes to special occasions, Pakistani girls have a wide range of outfit ideas to choose from. Traditional options like shalwar kameez are always a popular choice. This three-piece attire consists of a loose-fitting shirt paired with pants and a dupatta, and can be customised with intricate embroidery and embellishments.
Modern styles are also gaining popularity among Pakistani girls for special occasions. One unique tradition can be seen in the Kalash area, where women wear long, embroidered shirts paired with vibrant skirts. This combination creates a striking and festive look that is perfect for celebrating special events.
Incorporating bright colours and digital prints is another trend to watch out for in special occasion outfits. Bold and vibrant colour tones such as royal blue, fuchsia, and yellow add a festive touch to any ensemble. Digital prints featuring intricate patterns and motifs are also quite popular, adding a contemporary twist to traditional outfits.
Ethnic wear continues to make a fashion statement at special occasions. Girls can choose from a wide range of options, including lehengas, anarkalis, and gowns, each offering a unique and distinctive style. It's all about expressing personal style and embracing cultural heritage while looking elegant and fashionable.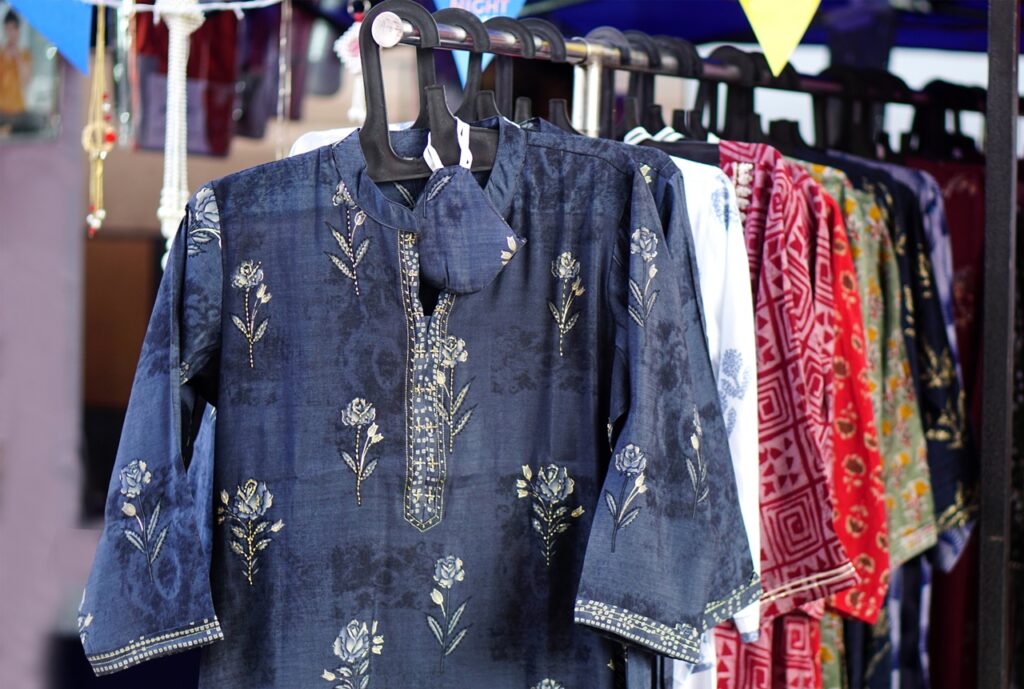 Conclusion
In conclusion, the latest trends in Pakistani girls' clothes are greatly influenced by the fashion industry and the preferences of Pakistani women. The fashion industry in Pakistan plays a crucial role in shaping and promoting these trends, offering a wide range of options for girls to choose from. Pakistani women, known for their impeccable fashion sense, gravitate towards casual wear that reflects their vibrant and lively personality. Bright colours, such as royal blue, fuchsia, and yellow, are popular choices as they bring a festive touch to outfits.
Additionally, digital prints with intricate patterns and motifs add a contemporary twist to traditional clothing, appealing to the modern tastes of Pakistani girls. With these fashion trends, Pakistani girls are able to express their personal style and embrace their cultural heritage, while looking elegant and fashionable at special occasions and everyday events.